The walls in the sitting room are painted a colour called 'Calm Sea' and that's how Salcombe Estuary looks during this time of the year. The light across the sparkling water is serene, with uninterrupted views to the horizon beyond Prawle Point. The bay is quiet without the summertime buzz of boats, the peaceful seascape broken only by the occasional sailing yacht heading out to sea or the sound of the rowing club energetically practising their strokes on the water.
The days are shorter, the nights crisper, but the sun sitting lower in the sky still shines over Salcombe and The Moult glows pinker than ever against the blue sky. During the holidays it is wonderful in Salcombe, with barely a soul on the beach, so plenty of room to muck about with a ball or to search for crabs. And with the changing colours of the foliage, it's the perfect time for a coastal walk with friends.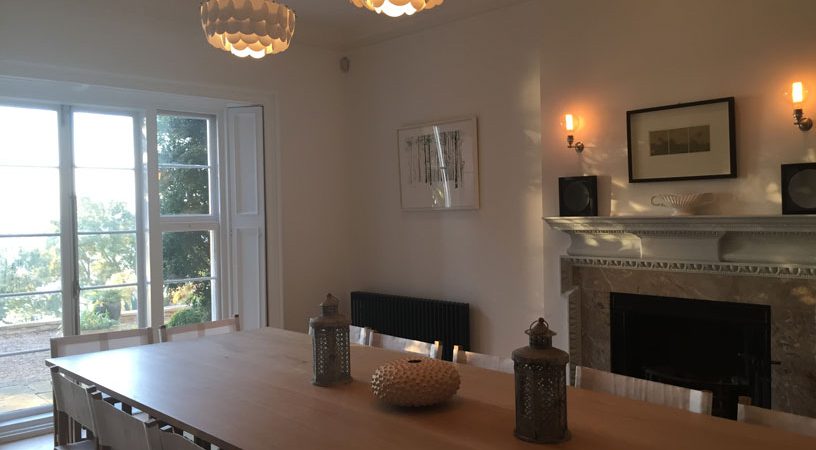 In the summer the inside of the house is ignored but more time is spent indoors during the colder months and the rooms flood with light, allowing you to enjoy the sea views without stepping outside the house. It is easy to see why over the centuries writers have found their inspiration at The Moult; there are so many places to sit and write, but you could just as easily curl up with a good book for a few hours.
But let's not ignore the outside, as the garden is filled with treats. The pool is still very warm and just as enjoyable when the outside temperatures drop. They've also invented a new game where you can bounce on the trampoline at the same time as catching leaves falling from the trees.
The Moult proves time and again that it is a house for all seasons and all families and friends. Be one of the lucky ones to discover this for yourself! The glow is there above the harbour, warm and inviting and waiting to welcome you. What are you waiting for?